Project - Shri Krishna Tower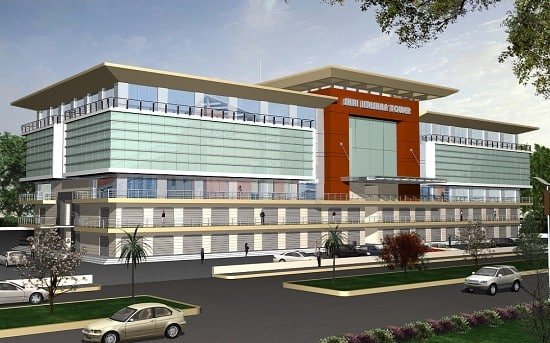 Shri Krishna Tower is amongst one of our highly successful commercial projects. The glass facade has been designed taking into account the reflections of the beautiful surrounding landscape.
Maximizing the frontage, overlooking the busy street, this building has been conceived to be sustainable in design and implementation. Energy efficiency and intelligent use of materials and spaces have been taken into account in adherence to green building technology.
Grade – 'A' LEED SILVER RATED GREEN Building
World-class Architecture offering environment-friendly office spaces
Surrounded by acres of elegantly landscaped gardens & green belt
Building Management Systems
Double Insulated Glazing
External Façade: Curtain Glazing, Sandstone & ACP
Energy Efficient High side Service Equipment
Turnstiles at Ground Floor Lobby
Lifts equipped with Destination Control System
Net Based Visitor Management System
Plot No. CC -1, RIICO Neemrana  (Rajasthan) 105 Km Dhaula Kuan & 80 Km. Rajiv Chowk (Gurgaon)
The Occupants in the complex have many options to choose from when it comes to entertainment and recreational activities.
Food & Beverage destinations such as Neemrana Fort and Cambay Sappire Hotel and Neemrana Court about the complex.
City Centre Mall offering a great mix of shopping and recreational option is located just opposite the complex.
The neighborhood offers entertainment options such as Go-carting track, a world class Spa,Ashiyana Green Hill etc.
Great accessibility to Hotels, St. Margaret Engg.College, Hill View Apartment etc. and RIICO Industrial Area.
The commercial hub of Neemrana, NH-8 Road is only a 1 minute drive from the complex.
The complex is located in a developed area with direct ingress and egress from NH-8
Elite occupiers in the neighborhood such as Parle-G, Honda, Taiyo, Hitachi etc.
Three tier security system with state-of-art security at the entrance, lobby and basement.
Main entry gates with boom barriers and under vehicular security scan.
Basement entries/ exits and other strategic areas have CCTV surveillance cameras with round the clock recordings.
Turnstiles at the ground floor lobby operated with access cards only.
Baggage scanner on the ground floor and mail room to secure the deliveries/ belongings.
Shri Krishna Tower Master Plan
ETH Infra is well known in Real Estate arena and in this core business of construction and property development, has always enjoyed a great respect, name and fame, trust and loyalty from its patrons over all these years. We have gained and achieved tremendous success in the field of construction of Residential Apartment, Commercial Building and Shopping Complexes, Malls. Growth, success, expansion and diversification are the prime factors determining the value of any company, we have not remained untouched by them and we on hopefully and positively looking forward for the expansion, both in the current field as well as in our new projects.
ETH Infra Is The Name You Can Trust.
Get in touch with us on the call now and pick your smart move of real estate investment.